With an effervescence that bubbles over like a sparkling champagne, Melissa Straube brings a pop of fun and vivacity to the residents at Park Place of Elmhurst.
As the community's life enrichment director, she views herself as a facilitator—helping the community's residents tap into their passions and interests—to create a fun and enriching atmosphere. However, before any planning can happen, Melissa says it all starts with the most essential task: listening.
"It's about communication, and it starts with getting to know the residents very well," she says. "Listening is a big part of that."
"It's Not About Me"
While Melissa describes her position as life enrichment director as equal parts problem solver and calendar management, she notes, "It's not about me, and I LOVE THAT."
"This job requires me to 'just be,'" she says. "Enrichment means something different to everyone, and you cannot have just any offering without knowing the residents."
That's why Melissa relies on the relationships she cultivates with the residents at Park Place and a life enrichment committee (consisting of multiple residents) that meets with her each month. "They give me feedback and tell me which programs went exceedingly well," she says. "They also tell me which ones need tweaking and if there's anything residents never want to do again. I take that feedback and go, 'Great! If we need to, let's retool and come up with something else.'"
Fan Favorites
Known for its active community and ever-curious minds, Park Place of Elmhurst has no shortage of fun and intriguing events. For example, she shared how a recent tie-dye event became a rousing success—and ended with 30+ residents showing off their colorful T-shirt creations.
"For three days, it was like Christmas in July around here," Melissa smiles as she recalls the event. "We had a gentleman who brought a VW bus and surfboards and guitars, and we set up four or five tables with different stations, and people made tie-dye shirts for three and half hours outside."
Participants walked away with their shirts in a bag but had to wait approximately 24 hours until they could see the end product. The anticipation only added more excitement.
"Guess what happened the next day?" Melissa asks. "They all walked around campus with these very colorful, fun shirts. And now their children don't know what to think about senior living. This might just become more than an annual event."
Additionally, anything with sweet treats—specifically socials—and cultural excursions like going to the Art Institute of Chicago or the Chicago Symphony Orchestra are always big hits. "This is a very social community," she adds. "We love fellowship, and we love listening to music. Being able to go out and be tourists in our town is always really fun."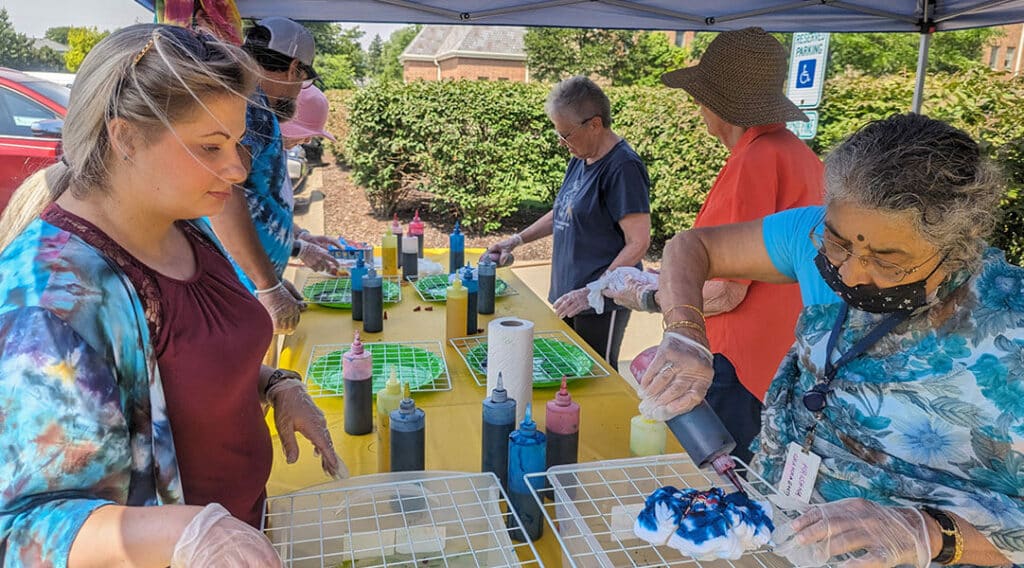 What Does a Normal Day Look Like?
If there's anything typical about Melissa's days at Park Place, it's that there aren't any typical days. And while that might not appeal to some, she thrives in such an environment.
"You know, the best-laid plans always change within the first 30 minutes of me being here," she says. Beyond checking voicemail and tending to any immediate needs, anything is possible.
"I like to make sure that all our special events for the day and the week are still organized and ready to go, and if we have to change plans due to weather," she adds. "I'm constantly meeting and communicating with my assistant Stephanie. She's amazing, and we keep the calendar flowing and on track."
Pointing to a sizable calendar behind her desk, she remarks how she's working on September's activities.
"Do I have everything appropriately planned for next month? What vendors do I need to communicate with? What rooms do I need to set up? It's an ongoing calendar management job and a lot of problem-solving. Solving every day is what keeps me going," Melissa says.
The Best Part About the Job
Beyond enrichment activities, Melissa wants people to know the best and easiest part of her job is seeing the residents' reactions to fun things they get to do every day (no matter what they may be).
"My love language is to give, so anytime I can provide just a bit more for our residents, the better," she says. "I also love that working in a senior community brings people with FULL lives in one place. They're coming with a history that they can bring to the community, and we can weave it into the tapestry that is Park Place of Elmhurst.
"I have lots of talented residents and bringing those talents to the table every day and providing them the opportunity to communicate and talk to each other about their special interests and ideas … that's really cool."
Unmatched Vibrancy
Named as one of the Best Independent Living and Best CCRCs by U.S. News & World Report, Park Place of Elmhurst offers a fun-filled and active community. You'll find more life to love here with access to modern amenities; a full continuum of care; a wide array of cultural, social and recreational opportunities; and plenty of enriching activities. Experience it for yourself by calling (630) 936-4504 to schedule a visit.